Birmingham Opera Company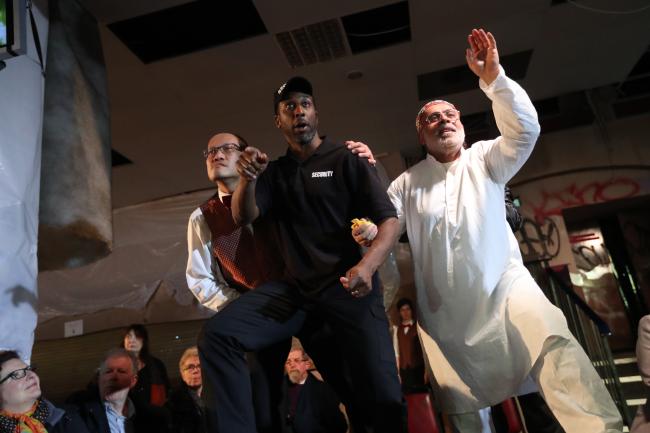 Young Artist Programme: Lady Macbeth of Mtsensk: photo: Adam Fradgley
Young Artists Programme - equipping socially and ethnically diverse singers with the skills and experience to succeed
Birmingham Opera Company delivered a Young Artists Programme running from November 2018 until the production of Shostakovich's Lady Macbeth of Mtsensk in March 2019. This provided paid opportunities to 11 diverse singers whilst helping them to develop their craft and maximise their employability.  We were also able to engage two students from the Royal Birmingham Conservatoire as Assistant Chorus Mentors providing further paid opportunities for singers at an earlier stage of their career.
All of Birmingham Opera Company's work is sung in English and without surtitles. The young artists benefitted from technical singing and performance coaching working closely with international opera director Graham Vick CBE, vocal coach Jane Robinson, Chorus Master Jon Laird, choreographer Ron Howell, acting coach Richard Willacy and BOC casting consultant Sarah Playfair. This holistic approach enables singers to shine and for some is transformative in terms of technique, experience and confidence.
All singers performed in six public performances of Lady Macbeth of Mtsensk, an internationally attended five starred and sold-out show. Seven were cast in step up roles and in addition to this industry exposure, five received additional mentoring from Graham Vick and Jane Robinson in a public masterclass on pieces of their choice. This free event attracted an audience of aspiring singers aged 16+ from the local area.
 "There are too many remarkable performances to mention... When the chorus, dotted through the audience, bursts into song, it's magnificent. You're surrounded in voices who will no doubt turn into soloists in future productions."  (Amanda Holloway, The Stage, 12 March 2019)
The small roles marked a major step up for some of the emerging artists, including significant performances from Grace Nyandoro as The Maid and Woman Convict, James Ioelu as The Priest, and Edward Harrisson as The Socialist. Richard Whitehouse commented that of the smaller roles, Nyandoro and Harrisson 'briefly stole the show' (Classical Source, 11 March 2019).
£3500 grant awarded in May 2018
Working with Birmingham Opera Company was amazing. This was my debut as a soloist in a major production with a full orchestra. Coaching sessions with Jane made me feel fully prepared to perform with some challenging staging. Working with Graham Vick was exciting and eye opening. His focus on the text made understanding and performing the music so much easier" Grace Nyandoro, Young Artist