British Museum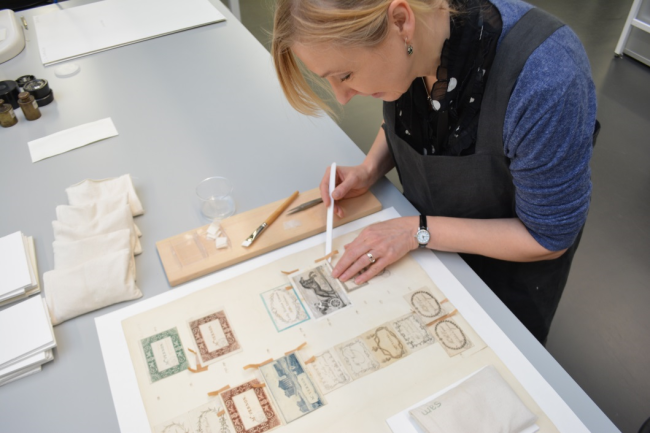 © Trustees of the British Museum
Conserving the Sarah Sophia Banks archive of printed ephemera
The three boxes of printed ephemera identified as priorities in this phase mainly consisted of Georgian visiting cards from titled, British and familial contacts, systematically preserved and mounted in paper folders by S.S. Banks and donated to the British Museum following her death in 1818. The key project outcomes were:
Conservation of three boxes focussing on items that were becoming detached from historic paper folders and vulnerable to damage or loss.
Further examination of the content and materials collected by S.S. Banks.
Stabilisation and, where necessary, repair of original storage folders.
Inclusion of handling instructions in each storage box to further the archive's condition for students for visiting the Prints and Drawings Study Room
Digitisation of remaining records on the Museum's internal database
Conservation of the Sarah Sophia Banks archive: 
The project was undertaken by trained paper conservators Samantha Taylor and Rebecca Snow, and overseen by the Head of Pictorial Art Conservation, Caroline Barry. The archival boxes each contained around 30 paper folders, their contents varying from a single visiting card to 70 individual items. Due to the 200-year-old adhesive becoming brittle and failing during handling, some of the cards were not securely attached to the folders. The collection is unusual in that the original arrangement of the material survives, giving a valuable insight into Banks' collecting practices. It was therefore important to secure the cards in their original context where possible.
The first task was to clean folders with a sponge to remove surface dirt: this improves appearance and removes material that may be abrasive or chemically damaging to the paper. Where adhesive attaching individual items to the paper folders had failed, they were secured in their historical arrangement using Japanese paper hinges and Methylcellulose adhesive. Where items had been added to a folder and not adhered in place, a sheet of archival paper was cut to a similar size to the folder and Japanese paper hinges attached to the item to prevent it becoming damaged. When items were secured, folders that were split along the fold with tears to the edges were repaired with Japanese paper to make them safer to handle. Following this, handling instructions were pasted to the inside of the lid of each box to aid curators, future conservators and students handling the items.
Outcomes and future plans: 
Now in a stable and secure condition and safe to handle, the three boxes are more suitable for professional photography, display and potential loan, and have been made more accessible to a wide group of researchers and collectors. So far only a fraction of the c. 12,000 items in the collection have been conserved, with at least 30 more boxes in need of stabilisation. 
£5000 awarded in May 2018
The project has given conservators a valuable insight into the issues affecting the collection and will allow the Museum to plan for the continuation of the preservation project' British Museum