Tullie House Museum and Art Gallery
Case Studies
Tullie House Museum and Art Gallery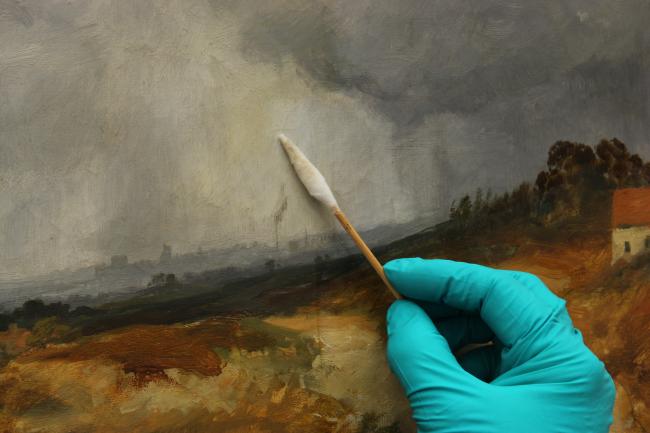 Lancashire Conservation Studios, Lancashire County Council Museum Service
Carlisle Revealed: conserving the painting 'Landscape with Carlisle in the Distance' by Sam Bough
The grant from Idlewild Trust funded the conservation of the painting and its frame by specialist painting and frame conservators. As a result, the painting is safe to display and has been preserved for future generations.  
Painting conservation: 
Surface dirt and old varnish were removed from the surface of the painting. Loose and flaking paint in the sky was consolidated and an area of abraded paint in the lower right corner was in-painted with artist's pigments. The canvas was removed from the stretcher and years of dirt and debris were then removed from the back of the canvas. A paper layer stuck to the back of the canvas around the original inscription was also removed. Adhesive was applied to the back of the canvas to re-adhere the paint and the canvas was supported with transparent fine polyester. This was a vital aspect of the treatment as it has preserved the visibility of the original inscription by the artist's widow on the back of the canvas which authenticates the painting as the artist's final work. The edge of the canvas was strip lined with polyester restoration cloth to support it and enable it to be re-stretched on to the original stretcher.  A final varnish was then applied to the canvas.
Frame conservation: 
The Victorian wooden frame with composition decoration and gilding was surface cleaned. Later overpaint on the slip was chemically removed. Extensive losses to the decoration were replaced, the slip re-gilded and the surface covered with a protective over-wash and the new gilding was toned to match.  A wooden build-up was added to the back of the frame. The painting was glazed with non-reflective virtually invisible glazing.  The original slip and rebate were cushioned and secured in place. The painting was fitted in the frame and a dust barrier of clear polyester film was added to the new build out and a backing board attached.
Display: 
An outcome of the conservation is a new display 'Carlisle Revealed' which outlines and illustrates the conservation of the painting. For context, it also includes Bough's painting 'Carlisle from Etterby Scaur', a portrait of the artist and some of his personal effects including his palette and brushes.. It has enabled audiences to engage with the work of this very popular artist. As the museum has one of the most definitive collections of this artist's work it was vital that his last known work was preserved. Conservation is challenging as the end result is unpredictable. It was hugely beneficial therefore to use a painting conservator who was familiar with the artist's work, having previously treated his paintings
£2500 awarded in May 2018
This funding has enabled this major painting by Carlisle's most famous artist to be preserved and properly displayed for the first time' Melanie Gardner, Curator